Our Team of Dental Professionals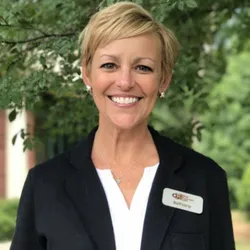 Bethany, Practice Manager
Bethany is responsible for the day to day operations of the practice, balancing her time between business operations, being part of the unique patient experience and actively supporting her team in areas of training and growth.
Bethany graduated with a degree in Business Administration from Frostburg State University and previously worked in the field of medical health insurance, in Claims, Underwriting and Management, prior to accepting the position at Don Fortner, DMD. Bethany receives positive energy from working with the amazing patient base, seeing her employees grow and helping Dr. Fortner and his Associate run the practice efficiently.
When not finding ways to make work more fun, Bethany enjoys traveling, knitting and scuba diving.
Dental Assistants
Mandy, CDA
Assistant Manager/ Clinical Team
Mandy has assisted Dr. Fortner in treating his patients for over 20 years. She is highly knowledgeable in all aspects of Dr. Fortner's treatment, technology and dental supplies. Mandy has a great relationship with her patients and values this as one of the favorite aspects of her job. As Dr. Fortner's assistant, she has a way of making even the most nervous patient feel calm and relaxed during treatment.
She has been married for over 30 years and has two handsome sons. Mandy enjoys spending time with her family and scrapbooking their adventures!
Makayla, DAII
Makayla (Mak) graduated from the RCCC Dental Assisting Program in 2019 and joined the practice to get the best experience in patient care, customer service and teamwork! Her passion for dentistry was sparked by her mother, who also works in the dental field. Mak gets a lot of positive energy by working with her patients and meeting new people every day.
Mak is a "dog mom" to her poodle, Oliver Joe, and she enjoys spending time at the beach and watching Alabama football.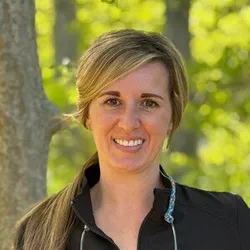 Deana, DAII
Deana joined our dental team in 2022 after many years as an Orthodontic Assistant. Deana brings confidence, positive energy and a reassuring nature to our patients as she works alongside Dr. Fortner and the team. Deana enjoys the wide variety of services our office provides and is rewarded by helping patients feel comfortable during their dental procedures.
Deana loves being a mom and spending lots of time with her daughter, especially weekends at the lake or the beach.
Dental Hygienists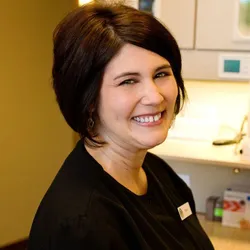 Annaig, RDH
Annaig has been working with Dr. Fortner for over 17 years, first as a Dental Assistant and now as a Dental Hygienist. Due to her years with the practice and her shining personality, Annaig has a true following of patients that continue to keep her very busy. She enjoys treating and educating her patients, as well as, having a general good time during the hygiene visit. Annaig feels that one of the most rewarding parts of her job is the relationship she builds with her patients.
Annaig is married to her high school sweetheart and together they are raising two sons.
Bekah, RDH
Following in her mother's footsteps, Bekah has wanted to be a hygienist since she was 13 years old. Bekah has been an active dental hygienist since 2007. She enjoys making connections with her patients and building trust in an effort to provide education and preventive care. She cares deeply about her patients and wants to assist in helping to assure they have overall good health.
Bekah has been married since 2003 to a former Marine and has one daughter. She enjoys spending time with family and friends and is always looking for fun ways to stay active.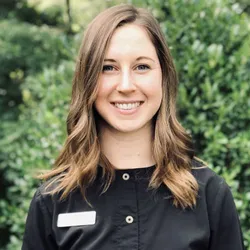 Whitney, RDH
Whitney has been a Registered Dental Hygienist since 2014 and joined our hygiene team in 2019. Whitney truly enjoys educating patients, especially on the connection between dental health and overall health. Her patients appreciate her compassion, thoroughness and sweet personality.
Outside of the office, Whitney enjoys spending time with her husband and dogs and also practicing the art of Jiu Jitsu.
Business Office
Becky, Patient Coordinator
Becky joined our dental team in 2021, with several years of experience working in a General Practice office. Becky is highly knowledgeable in dental insurance benefits, treatment options and scheduling efficiency. She also provides the high level of customer service that our patients enjoy. Becky quickly became part of our dental family due to her friendliness and outgoing nature and she looks forward to getting to know all of our patients.
In her free time, Becky enjoys spending time with her children and traveling with her husband.