My Blog
Posts for tag: nutrition
By Don Fortner, DMD
June 24, 2021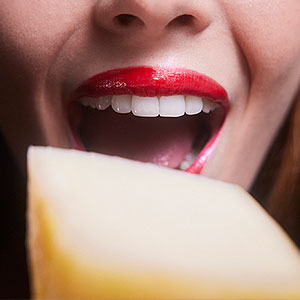 Here's a bit of magic: Hold your smart phone camera in front of someone and say, "Cheese!" More times than not, they'll break into a smile. No one knows for sure the origin of this grin-inducing phrase, but it works like a charm. And it's quite appropriate too! That tasty aging of proteins and fat also helps to keep the stars of our smile—our teeth—in good health.
In the fight against tooth decay and gum disease, daily oral hygiene—brushing and flossing—and regular dental visits get top billing. But nutrition is also a critical factor for great dental health.  A diet low in sugar and processed foods and rich in whole foods can also lower your dental disease risk.
Dairy is an important part of this "tooth-friendly" eating. In recognition of National Dairy Month this June, here's how products like milk and cheese can help you maintain a healthy—and photogenic—smile.
Nutrients. Dairy products like milk and cheese are chock full of vitamins and minerals. Two of the most important are calcium and phosphorous, both of which the body uses to build strong bones and teeth. The micronutrient Vitamin D found heavily in dairy helps regulate these important minerals so that they're available for teeth.
Reduced decay risk. Cheese and other dairy products do contain a form of sugar called lactose. But it has a milder effect within the mouth than other sugars, particularly sucrose (refined sugar): While bacteria readily feed on sucrose and release enamel-eroding acid as a by-product, they're less likely with lactose. Even so, there's still a risk, albeit lower, of lactose leading to tooth decay, so go easy on consumption.
Acid buffering. Speaking of acid, cheese in particular seems to contribute to neutralizing this bacterial byproduct. It's believed it does this by stimulating saliva production, which is the body's primary means for restoring proper pH balance in the mouth after eating. So, eating a little cheese during or after consuming a food with sugar may help offset any acid resulting from the sweet snack.
Cheese and other dairy products are a good source of protein, but also fat, so they should be consumed in moderation for overall health. But nibbling on a bit of Gouda, Havarti or Mozzarella can be a good thing for your teeth—and make it more likely you'll smile wide for the camera.
If you would like more information about the role of nutrition in better dental health, please contact us or schedule a consultation. To learn more, read the Dear Doctor magazine article "Nutrition & Oral Health."
By Don Fortner, DMD
March 16, 2021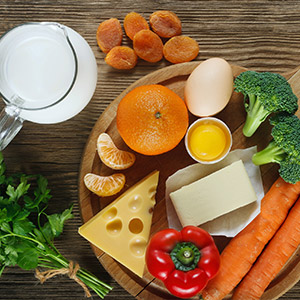 "Personalize Your Plate" is the theme for this year's National Nutrition Month in March, sponsored by the Academy of Nutrition and Dietetics. It means there isn't a single diet for all of us: We're each unique with differing body types and tastes, and our diets need to be unique as well. Still, though, you'll want to be sure to include basic nutrients that are generally good for all of us—including for our teeth.
As you "personalize" your daily diet, be sure it includes dental-friendly vitamins and minerals. Here are some of the more important ones that contribute to strong and healthy teeth, and the kinds of foods in which you'll find them.
Vitamin D. This vitamin is a key element for growing and maintaining healthy teeth and bone, mainly by helping the body absorb calcium. You'll find vitamin D in milk, eggs or fatty fish—and you'll also gain a little strolling outdoors in the sunshine!
Vitamin E. As an antioxidant, vitamin E helps the body fight free radical molecules that contribute to cancer development, including oral cancer. You'll find vitamin E naturally in seeds and nuts (and derivative cooking oils), wheat germ and whole grains.
Calcium. When included with vitamin D and phosphorus, calcium is an important "construction material" for building strong teeth and bones. You'll find calcium in dairy products like milk and cheese as well as greens, legumes and tofu.
Phosphorus. Eighty-five percent of the body's phosphorus, a companion mineral to calcium, is found in teeth and bones, where it helps to keep them strong and healthy. You'll find this important mineral in meats, milk and eggs.
Magnesium. This mineral helps mineralize teeth and bones, giving them strength and protection against disease. You can get magnesium by eating nuts, legumes, whole grains, dark leafy greens, seafood and—if you limit the added sugar content—chocolate.
Fluoride. Most people are familiar with fluoride added to drinking water or toothpaste to strengthen tooth enamel against tooth decay, but the mineral also occurs naturally in some foods. You can obtain low amounts of fluoride in seafood and black or green tea.
One last thing! While we're promoting foods that you should eat for healthier teeth, there's also one you'll want to cut back on: processed sugar. This carbohydrate is a major factor in oral bacterial growth that causes tooth decay and gum disease. So, eating foods low in sugar and high in these key vitamins and minerals will help ensure your teeth stay healthy.
If you would like more information about the importance of nutrition in dental care, please contact us or schedule a consultation. To learn more, read the Dear Doctor magazine article "Nutrition: Its Role in General & Oral Health."
By Don Fortner, DMD
November 27, 2018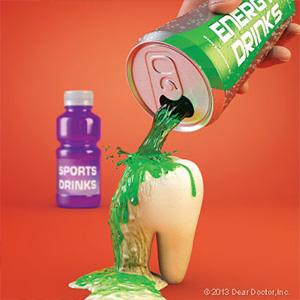 Although energy and sports drinks have different purposes, they have one thing in common: they often contain added citric and other acids to improve taste and prolong shelf life. Their high acid content can harm tooth enamel.
Although enamel is the strongest substance in the body, acid can dissolve its mineral content. And although saliva neutralizes acid after eating or drinking and helps restore lost minerals to the enamel, it may not be able to keep up if the mouth remains acidic for a prolonged period of time.
That could happen with both beverage types. While energy drinks have higher acid levels than sports drinks, both are high compared with other beverages.
A recent laboratory experiment studied the two beverages' effect on tooth enamel. The researchers submerged samples of enamel in six different beverage brands (three from each category) for fifteen minutes, and then in artificial saliva for two hours to simulate mouth conditions. They repeated this cycle four times a day for five days.
At the end of the experiment the enamel in the energy drinks lost on average 3.1 % of their structure, while the sports drink samples lost 1.5%. Although energy drinks appeared more destructive, the acid in both beverages caused enamel damage. Although there are other factors to consider in real life, the experiment results do raise concerns about both beverages' effect on dental health.
You can, however, minimize the potential harm to your enamel from energy or sports drinks. First, try other beverage choices lower in acid; water, for example, is a natural hydrator and neutral in pH. Try to only drink energy or sports beverages at mealtimes when your saliva is most active. And after drinking, rinse your mouth out with water to dilute any remaining acid.
And although it sounds counterintuitive, wait about an hour to brush your teeth after drinking one of these beverages. Your enamel can be in a softened state before saliva can re-mineralize it, so brushing earlier could remove tiny amounts of enamel minerals.
Taking these steps with energy or sports beverages could help you reduce the chances for enamel erosion. Doing so may help you avoid unnecessary damage to your teeth and overall dental health.
If you would like more information on the effect of sports and energy drinks on dental health, please contact us or schedule an appointment for a consultation. You can also learn more about this topic by reading the Dear Doctor magazine article "Think Before You Drink."