My Blog
Posts for tag: gum recession
By Don Fortner, DMD
January 21, 2020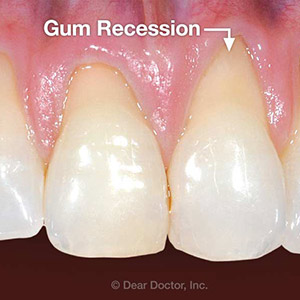 Your gums play an important role in dental function and health. Not only do they help anchor teeth in the jaw, the gums also protect tooth roots from disease.
But you can lose that protective covering if your gums recede or shrink back from the teeth. An exposed tooth is more susceptible to decay, and more sensitive to temperature and pressure.
Here are 4 causes for gum recession and what you can do about them.
Gum disease. The most common cause for gum recession is a bacterial infection called periodontal (gum) disease that most often arises from plaque, a thin film of bacteria and food particles accumulating on teeth. Gum disease in turn weakens the gums causes them to recede. You can reduce your risk for a gum infection through daily brushing and flossing to remove disease-causing plaque.
Genetics. The thickness of your gum tissues is a genetic trait you inherit from your parents. People born with thinner gums tend to be more susceptible to recession through toothbrush abrasion, wear or injury. If you have thinner tissues, you'll need to be diligent about oral hygiene and dental visits, and pay close attention to your gum health.
Tooth eruption. Teeth normally erupt from the center of a bony housing that protects the root. If a tooth erupts or moves outside of this housing, it can expose the root and cause little to no gum tissue around the tooth. Moving the tooth orthodontically to its proper position could help thicken gum tissue and make them more resistant to recession.
Aggressive hygiene. While hard scrubbing may work with other cleaning activities, it's the wrong approach for cleaning teeth. Too much force applied while brushing can eventually result in gum damage that leads to recession and tooth wear. So, "Easy does it": Let the gentle, mechanical action of the toothbrush bristles and toothpaste abrasives do the work of plaque removal.
While we can often repair gum recession through gum disease treatment or grafting surgery, it's much better to prevent it from happening. So, be sure you practice daily brushing and flossing with the proper technique to remove disease-causing plaque. And see your dentist regularly for cleanings and checkups to make sure your gums stay healthy.
If you would like more information on proper gum care, please contact us or schedule an appointment for a consultation. You can also learn more about this topic by reading the Dear Doctor magazine article "Gum Recession."
By Don Fortner, DMD
May 31, 2018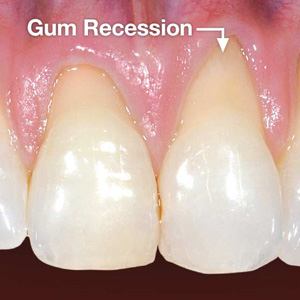 Your gums aren't just for show—they also play an important role in supporting and protecting your teeth. Healthy gums are essential for healthy teeth.
Your gums can take a lot from daily chewing or other environmental factors. Unfortunately, disease or trauma can weaken their resilience. This weakening could lead to gum recession.
Gum recession occurs when the tissues covering a tooth begin to lose their attachment and shrink back (recede). As a result, the tooth appears "longer" as more of it that's normally below the gum line becomes visible. Not only is gum recession unattractive, it also exposes more of the tooth to disease-causing bacteria.
The most common cause for gum recession is periodontal (gum) disease, an infection arising from the accumulation of a thin bacterial biofilm on the teeth called plaque. Infected gums become inflamed, a normal defensive response to isolate diseased or damaged tissues from the rest of the body. Chronic inflammation, however, weakens affected tissues over time and results in bone loss.
Other factors can also contribute to gum recession. A tooth that didn't erupt properly and has come in away from the center of its protective bony housing can impede adequate gum coverage. Your gum tissue thickness, which you genetically inherit, can also increase the risk of gum recession. People with thinner gum tissues are more susceptible to recession than with thicker tissues.
You can also damage your gums (ironically) while trying to care for them. Over-aggressive brushing over time may traumatize the gums to the point that they recede. While it's essential in removing disease-causing dental plaque, brushing only requires a gentle scrubbing action covering all portions of tooth surfaces. The brush bristles and mild abrasives in the toothpaste do most of the work of plaque removal.
To minimize the chances of gum recession, you should practice proper oral hygiene and visit your dentist regularly for professional cleanings and checkups. And you might also consider orthodontics for improperly positioned teeth that could not only improve your smile, but also your gum health.
And by all means see your dentist if you notice any signs of gum infection like swollen, reddened or bleeding gums. The sooner you begin gum disease treatment, the less likely your gums will recede in the future.
If you would like more information on recognizing and treating gum recession, please contact us or schedule an appointment for a consultation. You can also learn more about this topic by reading the Dear Doctor magazine article "Gum Recession: Getting Long in the Tooth."
By Don Fortner, DMD
October 15, 2016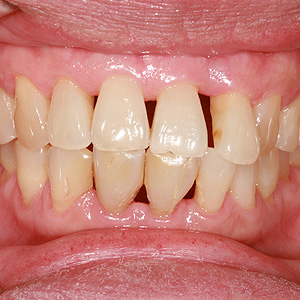 Your teeth are meant to last a lifetime. Even with wear and tear from years of eating and biting they can continue to function properly and look attractive well into your senior years.
Teeth are resilient thanks in part to enamel, the hardest substance in the human body. But the gums also contribute to this resilience: besides attractively framing the teeth, they protect the dentin and roots below the enamel covering.
Unfortunately, the gums can shrink back or "recede" from their normal place. Not only does this look unattractive, the recession can also expose teeth to disease and cause tooth sensitivity to temperature changes or biting pressure.
There are a number of causes for gum recession, some of which you may have little control over. If, for example, your teeth come in off center from their bony housing, the gum tissues may not develop around them properly. You might also have inherited a thinner type of gum tissue from your parents: thinner tissues are more delicate and susceptible to recession.
But there are other causes for which you have more control. Over-aggressive brushing (too hard for too long), ironically, does more harm than good as it can injure your gums and cause them to recede. More likely, though, your recession is a direct result of neglecting proper hygiene for your teeth and gums.
When teeth aren't properly cleaned through daily brushing and flossing, a thin film of bacteria and food remnant called plaque builds up on tooth surfaces. This can trigger periodontal (gum) disease, which subsequently causes the gum tissues to detach from the teeth and often recede.
To reduce your risk of gum disease, you should gently but thoroughly brush and floss daily, and visit us for cleanings and checkups at least twice a year. If you have a poor bite (malocclusion), consider orthodontic treatment: malocclusions make it easier for plaque to accumulate and harder to remove.
Above all, if you begin to see signs of gum problems — swelling, bleeding or pain — see us promptly for an examination and treatment. Dealing with these issues early is the best way to ensure your gums continue to do their jobs for the long-term.
If you would like more information on the treatment and prevention of gum disease, please contact us or schedule an appointment for a consultation.